Why Choose Design Build Construction? 
Rather than attempting to convince you why you should choose Design Build for your project. We thought we would explain why we choose to become a Design Build contractor.
Our story began with a breaking point. We received a set of plans for a custom home. The design intent was there, some of the renderings were magnificent.
For instance, they had beautiful views combined with stunning architectural features. However, the potential client came to us with the ultimate question: 
"The designer told me this was Net Zero. How much is this going to cost to build?" To which we answered, "We have no idea. There is no detail here? 
This rendering is nothing more than a cartoon sketch… there is pretty much no way we can turn this into a Net Zero home."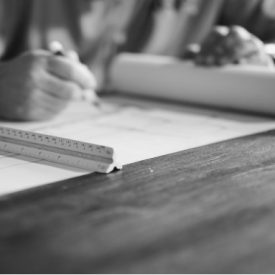 Knowledge about Net Zero Design Builds is minimal. For instance, carpenters both in and coming out of school are still being taught by referencing the same trade textbook my grandfather gave me (More on this in our last post on Net Zero Construction).
Similarly, passive House and Net Zero design and construction courses are undertaken separately. They are extra's.
In other words, they are not considered significant or established enough to be included in the regular professional designation curriculum. 
Therefore, any learning, growth, and development in this area must be pursued at one's own convenience, and additional expense. 
Above all, instead of the industry professionals bringing these advancements and options to the client. The clients are bringing them to the "Industry Professionals!" 
The Professional
Most professionals think of themselves as experts and like to say that "they have been doing this for years." Yet, the very definition of being an expert is to bring expertise.
Therefore, that expert should focus on providing the client with the best possible options available in their budget. Not just the easiest, fastest, or cheapest.
Above all, when a builder or professional is adamant, building Net Zero or energy efficient is way too expensive. It's because they either don't know how to do it or have no experience with it.
For instance, when we undertake a design build project, we prioritize the client's philosophy, goals, and desired design upfront. 
Similarly, we understand the functional space requirements and outline the finish and material selection level and perform a Net Zero energy design. 
In other words, we take the time to understand both what's truly important to the client and their budget parameters before we start.
We take the time to research and establish as many of the costs associated with their design in advance.
Plan Design Build
As the design, planning, and building stages progress and evolve, we take pride in helping our clients to make the best possible selections for their home. 
Pricing and costs are closely monitored to ensure that our clients are aware of all cost implications.
Above all, we want to build our client the best home possible for their budget, and it starts with geometry and building orientation. 
If we don't optimize this aspect of the design, we will not be able to achieve Net Zero goals and standards.
Therefore, we follow simple design formula's to ensure airtightness, outstanding insulation, and no thermal bridging. Also, we utilize superior window features and highly efficient mechanical ventilation systems.
You might like the look of a glasshouse, but you probably don't understand the cost or the environmental implications. Not to mention the comfortability of the design.
In other words, wouldn't it be nice to know this early on before you go all the way down the design path?
Being involved in the process from the very beginning, we can emphasize the details and implications which matter most in the design.
We can provide cost control from the beginning, so there are no surprises at the end. And offer creative solutions to any changes that occur as the design evolves and the construction process progresses.
If you live in the Greater Edmonton area, and you are thinking of utilizing the Design Build process to create your dream Net Zero home, and this article hasn't quite answered the question "Why Choose Design Build Construction?" 
Take a look at our How we build page, give us a call on 780-434-3559 or send us an email with your question at  [email protected]
We hope that this article, written by Butterwick's founding partners, has helped answer the question they regularly come across… "Why Choose Design Build Construction?"
Thank you.